Should I give my nanny a Christmas gift?
It's the holiday season, and no doubt your gift list is endlessly long. Amidst the flurry of last-minute Christmas gifts, you think of your nanny. 
Do you need to get a Christmas gift for your nanny, too?
The answer to this question is a resounding yes. Your nanny absolutely deserves a Christmas gift. Take a minute to reflect on how hard they've worked throughout the year to care for your children, tend to your home, and help out with many different tasks, such as:
Washing and folding laundry
Keeping the house tidy and clean
Making nutritious snacks for your children
Running errands and making special stops
Investing in your children through playing, teaching, and listening
Picking up and dropping off children at school and other activities
And these are only a few of the many things your nanny probably does.
Undoubtedly they've made the holiday season easier on you, too. Between longer work hours, school breaks, holiday preparations, Christmas shopping, and everything else holiday-related — your nanny has worked hard to make this Christmas an enjoyable one for your family.
The hard work and dedication they have brought to your household mean you should consider a Christmas gift for your nanny. Don't skip over this opportunity to let them know how much their work means to you.
What to give my nanny for Christmas?
So you've decided to get a holiday gift for your nanny. Great! But what should you get? We understand how overwhelming it can feel to add one more person to your Christmas list. 
How do you decide on a Christmas gift for a nanny? You want to show your appreciation — you want to let them know how much their dedication means to you. So a generic gift simply won't do.
We get it. You want your nanny to feel as valued as they are, but the holiday season can be a stressful and chaotic time. Trying to think of one more gift feels overwhelming. 
That's why we compiled a list of thoughtful gifts any nanny would love to receive. Our selection of the best Christmas gift ideas for nannies will be sure to put a smile on your nanny's face.
7 thoughtful Christmas gift ideas for a nanny.
1. Holiday Bonus.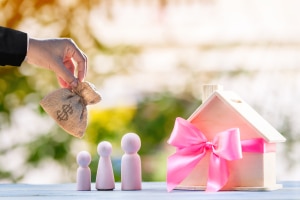 While a holiday bonus is not required, it is customary within the nanny industry. Skipping the holiday bonus may make them feel unappreciated and undervalued. A holiday bonus is a great way to say thank you for all the hard work your nanny has done throughout the year.
A holiday bonus ranges from 1-4 weeks' salary. This amount depends on if your nanny is full-time or part-time, where you live, and what your family can afford. Consider what amount your family is most comfortable giving as a Christmas gift for your nanny.
2. Gift cards.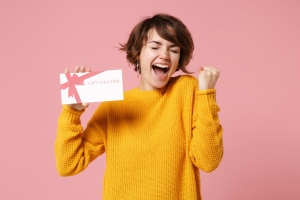 Who doesn't appreciate gift cards? Think about some things your nanny loves. What movies or food do they talk about? A gift card to their favorite restaurant lets them know you've paid attention to their interests. 
Nannies have a tiring job as caretakers of your kids and home. 
No matter how lovely your children may be, it is a hard job. Your nanny spends long days doing a variety of activities, including:
Taking kids here and there
Entertaining with activities
Completing household tasks
Getting down on the floor to play
And so much more.
Often, self-care is forgotten. Give your nanny the gift of relaxation and rejuvenation with a gift card for a manicure or pedicure, spa day, or any other activity you know your nanny would love. 
Additionally, there's no doubt their car shows some wear and tear after transporting children and running errands. A car detail is a practical Christmas gift idea for your nanny.
3. A personalized gift.
Nothing tells someone you know and appreciate them like a gift tailored to them. You can pick up personalized gifts just about anywhere, but here are a couple of small businesses we love to support.
Nanny Tees offers a selection of humorous and relatable nanny accessories, from t-shirts to tumblers. Looking for a wide selection of nanny-geared t-shirts, stickers, tote bags, and phone accessories? Nanny Years has got you covered. 
There's no doubt a personalized holiday gift from one of these shops will make your nanny's heart burst.
4. Paid time off.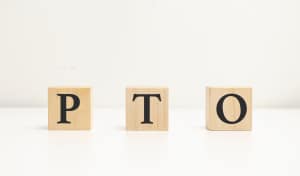 We've said it a lot: your nanny works hard. One of the best Christmas gifts for your nanny is additional paid time off. They will appreciate the break and the chance to rest and will come back to work refreshed.
Here are a few reasons to consider giving your nanny extra paid time off:
You have extended family coming in for the holidays.

If grandma and grandpa are there over the holiday season, consider giving your nanny a few paid days off. Your family wants to be involved with your kids, and your nanny may feel out of place and useless during this time.
Your nanny has family living out of state.

Your nanny is probably missing their family over the holiday season. Paying for their airfare and giving some extra paid time off so they can visit is a thoughtful and generous Christmas gift idea for your nanny. 
5. A gift basket.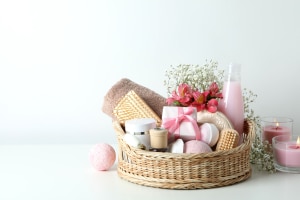 Here's a chance to show how well you know your nanny. What are some items they love? Take the time to put together a gift basket with some of their favorite things, such as:
There are so many things you can gather to stick in a gift basket. It's easy for you and a useful Christmas gift for your nanny.
6. Comfort items.
Consider gifting your nanny some comfort items they can use around your home while they're working. Things like slippers, hoodies, and comfortable shoes are practical holiday gifts for a nanny.
Are they outside a lot with your children? Making sure they have warm outerwear is a nice way to let your nanny know you care.
7. Homemade and sentimental gifts.
Let's not forget that some of the best Christmas gifts are homemade. Your children may want to be part of the gift-giving, and if so, homemade gifts are the way to go.
Have your children draw a picture, color a card, or help you bake something for your nanny. Your nanny may also love a sentimental gift, such as a framed picture of them with your children.
Give your nanny a Christmas gift.
Whatever you do, please don't show up Christmas morning empty-handed for your nanny. You'll leave them feeling hurt, confused, and wondering what they've done wrong. 
You know how much time and stress your nanny saves you, and you love the way they care for your kids. Don't forget to let them know!
Hopefully, we've made it a little easier for you to find a last-minute Christmas gift for your nanny. Your nanny appreciates any effort you put into their gift, so don't stress about it too much!
We'd love to hear your thoughts — what are some of your Christmas gift ideas for a nanny?